Ok, artikel nie aku copy paste je ok..
pasal aku sangat berminat dengan kisah silam Ashley Brown iaitu yang dulu nya salah seorang peserta Britain` Next Top Model
dan diikuti salah seorang peserta dalam program America`s Next Top Model Britain Invasion juga.
Bagi seorang model yang boleh dikategori Baby Doll nie, siapa sangka dia pernah jadi mangsa penderaan ?
Baca artikel dibawah ( copy paste )
TELLY beauty Ashley Brown has told how she suffered years of abuse from her ex lover — who beat her while she was pregnant.
The Britain's Next Top Model contestant claims she was headbutted and grabbed round the throat by jealous Alessio Tumminello, 21.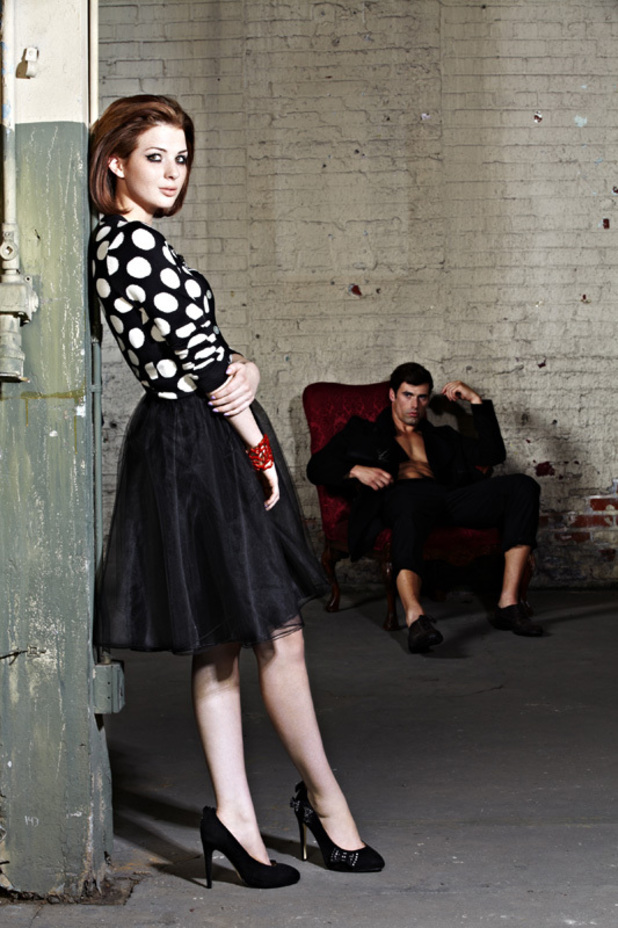 And she says Alessio — father of her two children — even banned her from having a BATH in case she was trying to attract other men.
Scots brunette Ashley, 20 — who has a daughter aged three and a six-month-old son — said: "Sometimes he would just strangle me, but when he headbutted me I had to hide it with make up.
Headbutted
"
The worst thing was that my little girl had to see it. He headbutted me so I had a huge lump and a bruised cheek. I was pregnant. It was the week before I found out
."
Ashley met Alessio when she was 15 and living with her parents in West Lothian. She got pregnant a year later.
He denies ever being violent during the four-year relationship.
But Ashley says the attacks began after they moved into their first home together.
She said: "
It started with jealousy, then it got into him hitting me. He used to lock me in the house.
"
I wasn't allowed to wear low tops, or white because he said it was see-through. I wasn't allowed to wear skirts or pointy heels because he said they were slutty
.
"
I wasn't allowed to wear make-up or to have a bath or a shower if I was going out to see someone, because he said I was trying to impress them
.
"
He was taking drugs a lot. He was horrible. He took all my confidence away.
"
Ashley says the abuse became "
very frequen
t". She said: "
The police were involved and social services
.
"
He stopped for about a week when he found out I was pregnant, but then he started again. He didn't hit me when I was pregnant with my daughter, but he did when I was pregnant with my son.
"
It was because of the children that Ashley says she finally found the strength to leave last year. She has cut off all contact.
She said: "
I put my kids first. Kids shouldn't see someone get kicked or hit
.
"
It's things he used to say to my little girl that really got me
.
"
He would call her a little bitch. It was disgusting. She'd make this little face and her cheeks would puff out and her little lip would go, but she'd try not to cry. It was really, really sad.
Ashley has never publicly spoken before about her ordeal. But she told The Sun she now hopes she can inspire other women to leave violent partners.
In next week's Top Model show Ashley will be posing for photographs for a domestic abuse charity as she tells how she was a victim.
(The wannabe models posed for graphic photographs which highlighted smoking and violence, an issue that has haunted Ashley Brown. )
She said: "If a guy hits you once he's going to hit you again, so don't be stupid. I know it's difficult. It took me a while to leave, but I did it."
Alessio ... he denies violence
In September last year, Alessio landed in court after police investiged a domestic incident at an address in Livingston.
At Linlithgow Sheriff Court he admitted damaging property and being concerned in the production of cannabis.
He was fined £400 for the drugs offence and ordered to pay £250 compensation for the damage he caused.
Alessio, from Edinburgh, insists he was never violent towards Ashley.
Speaking from holiday in Italy, he said: "
I've heard the stories she's been saying. It's not true. Not at all. I can guarantee you. I wish her all the best with her career. I just want to see my kids.
"
Beautiful
But Ashley's mum Kath Emerson backed her daughter's claims. Kath told how she once saw Ashley with a "
big lump
" over her eye, and another time with fluid running down her nose after Alessio punched her.
She said: "
She had a terrible time
."
Kath said Britain's Top Model has helped Ashley regain her confidence. She said: "
She's starting to believe she's beautiful again. I'm so proud of her.
"
Korang bayang kan je lah, dari usia dia 15tahun dia jumpa jantan tak guna tu, umur 16tahun Ashley dah pregnant. Dalam usia yang sangat muda pulak tu.
Yang paling kesian, time dia mengandungkan anak ke-2, dia kena belasah.
Hidup kita time belasan tahun masih duduk bawah ketiak mak bapak.
Dia? Jadi mangsa penderaan lelaki yang tak berguna dan tak bertanggungjawab.
Kita patut bersyukur dengan kehidupan kita sekarang.
Semalang mana nasib korang, ingat je lah..
Ada yang lagi malang dan patut dikesiankan dari korang. :)